We are a group of enthusiastic individuals who love to work with children and for them. We are passionately committed to languages and we know how to bring them closer to children in a fun and interesting way. The nature presents great joy to all of us and for this reason the summer language camps for children in the countryside in the intact nature are perfect for us. Individually and collectively we are excited to be around these young adventurers and we are delighted immensely when we see them happy and content. Every day we are excited for them and with them when they get closer on their path to new knowledge. At our camps we develop the adventurous spirit, the true contact with the nature and we form long lasting friendships, also with the help of languages. Through all kinds of activities the languages tend to find their way to get under our skin on their own and they connect us.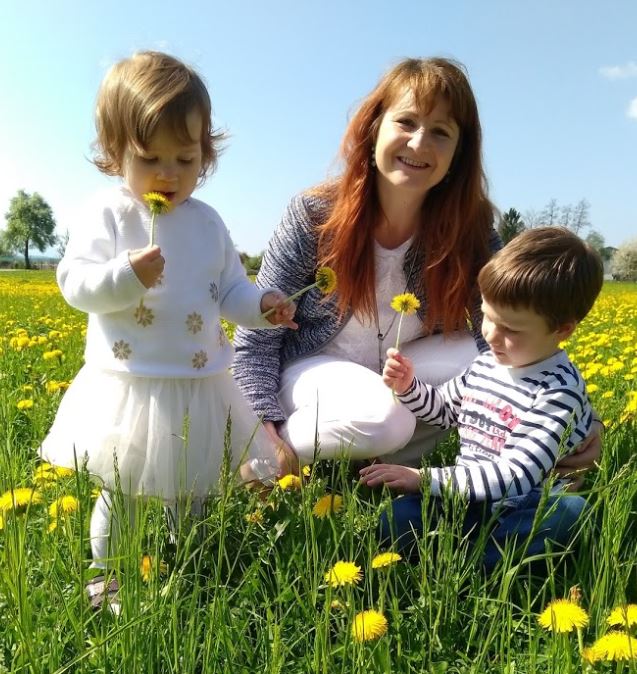 Aleksandra Borštnar Maček
Kozjanski raj
Aleksandra Borštnar Maček, BA in German and Literature and Journalism, with years of teaching experience and experience as an editor of school textbooks and the PONS foreign language literature; she spent her childhood and teenage years in Prevorje. Aleksandra spends every moment of her spare time in nature, she takes long walks, she prefers the river or the sea, she plays sports, meets with friends or reads books, and of course, she travels. From the numerous places she has visited she has discovered a little piece of wisdom: "Slovenia is one of the most beautiful countries in the world and Prevorje is a place my foreign friends call paradise".
"I truly wish that people wouldn't lose themselves in this fast-paced lifestyle, and wouldn't forget that that we are all a piece of the nature which surrounds us and gives us life. We have to learn to love it and take care of it. I feel I can help both children and adults have a taste of the country life in a way such that they can hear the silence, feel the softness of the grass, be tempted by the smell of the fresh hay, and sink into the magic of a starry night."
Hannah Burton
Kozjanski raj
Hannah Burton is a Native English speaker who lives in the UK but has spent a lot of time in Slovenia over the past 3 years.  She has a BSc in Sports Education and is a qualified teacher, she has taught 5 – 13 year olds in England for the past 9 years and has spent time in schools in Slovenia more recently. Hannah is also a qualified football coach and has coached girls and ladies football teams for many years. She was brought up on a farm in England and loves the countryside and being outdoors. After spending a year out travelling in 2015 Hannah fell in love with Slovenia the first time she visited and now has a desire to explore the stunning landscapes here whenever she gets the opportunity. She loves the unspoilt nature within this spectacular country.
"What a fantastic opportunity children have here in Slovenia with camps like these, being able to experience and explore some of the most amazing scenery and culture I have seen anywhere, every child should be given this opportunity. I love to see children expand their horizons by increasing their knowledge through educational, social and cultural experiences and I look forward to assisting the children on these camps to do this.".
Katherine Blundell
Kozjanski raj
Katherine Blundell is a Native English speaker who has been living and working in Slovenia for the past two years. She has worked in various education roles in the UK and Slovenia based on formal and non-formal learning approaches with children aged from two years, to adults with learning problems up to 60 years years old.Her passion is educating with art. She has a BA hon Degree in Applied arts, working with ceramics, glass metal and recycled plastics. Since graduating she studied English teaching and she has been involved with workshops which explore individual creativity in many materials. She uses art as a means of informally teaching English as students are encouraged to express their interests. She is currently working at a Primary school in Ankaran Slovenia as an assistant. She works with English teachers and also creates cross curricular activities which are topical, relevant English study topics in other subjects such as sports lessons.
»I love to help people explore ways of expressing creative thinking, and I believe that if we learn to use our hands and work with others, we often end up learning many other skills at the same time without realizing. These could be new languages to help us communicate ideas, or finding what our real interests are by exploring new places and ways of looking at things. There is no better place than in nature, to learn about ourselves.«
David A. Mosquera
Kozjanski raj
David A. Mosquera is a Colombo-American citizen, living in Slovenia for two years. David studied 3D animation and film at Lehigh Carbon College in Schnecksville, Pennsylvania (USA) where he also worked at WXLV 90.3FM as a radio host and DJ. Now in Slovenia, he is working as a motion graphic designer, photographer and musician. David loves dancing, travelling, food and music… Specially making music.
"Life is very simple, we are the ones who complicate it instead of living it – and to do so, we have to learn to live along with nature."
Katja Kern
Kozjanski raj
Katja Kern – A student in her final year at Faculty of Education Ljubljana. She is a person of multiple interests and she feels that being a teacher combines them all. Music and theatre represent a big part of her life. Whenever she has a few minutes to spare, she picks up a good book or does sport. She is a very flexible and active, never standing still. Since she remembers she loves to travel as well. Hand in hand she enjoys discovering extraordinary places and meeting new people. During her studies she has worked in various settings, always surrounded by children, collecting valuable experiences.
"Even though we learn in so many different ways, the nature provides everyone with enormous opportunities to gain a big variety of skills without even realising it at first. That is how stimulating the nature is!"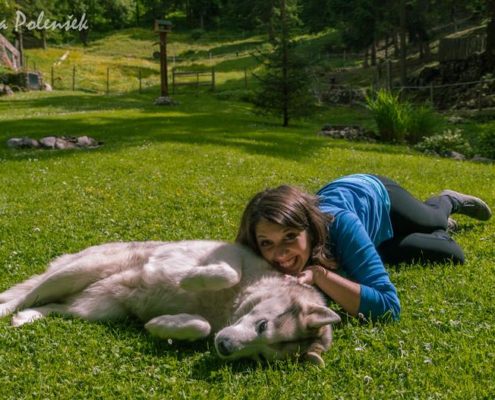 Špela Jenko
Kozjanski raj
Špela Jenko is finishing her studies to become a primary school teacher in Ljubljana. Children's creativity and curiosity were the main ideas why she decided to become a teacher. Summer holidays are a big adventure for her. She usually takes part in a horse-riding camp, English camps and summer-sea camps. She always expresses herself through enthusiasm and through the eyes of the children. On the same way she tries to conjure learning to children sensible and funny.
She really likes hiking, she loves swimming and especially she likes meeting people and observing human mind.
»Children always find the way to make me smile. They know how I feel in a particular moment, they can read words and feelings from my eyes and they are the ones who always give unselfishly. We cannot take their giving as a fact. We need to arm these little people with knowledge and self-confidence to succeed in today's world. And I hope I will manage to help them on that way. «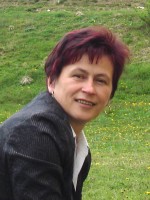 Marija Frece Perc
Kozjanski raj
Marija Frece Perc, primary school teacher, teaches lower grades at the Prevorje Elementary School. She has a great deal of experience teaching children and leading extracurricular activities. She is involved in combined-classes teacher training as a multiplier, she teachers her colleagues how to work with children in such a class and what advantages these small schools have for children.
"I live and work in a genuine country environment. I am in constant contact with nature and it makes me happy. In my spare time I take invigorating walks in flowery meadows and through green forests. I watch water drops glistening in the morning sun and tiny flowers along the overgrown paths. I like to stop to talk to people, and on rainy days I read educational books or a book for the soul."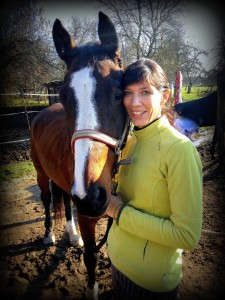 Angela Žugič
Kozjanski raj
Angela Žugič – Well, it is not often that people call her Angela, because everybody just calls her Angie. She is a German teacher, and has years of experience in teaching adults and children, translation and interpretation. For years now, she has been teaching Slovene language to German-speaking citizens who live in Slovenia. Early in her childhood, she noticed that she is good with languages and that she enjoys learning new words. Slowly and spontaneously she developed her love towards languages, especially German. She tries to present the language in a fun, easy way, by using a variety of techniques and devices that enrich her teaching or workshops, so that even her students would come to love German. The participation in the camps is particularly pleasing for her, because of the relaxed atmosphere, the contact that she has with nature and the curious faces of children, when learning also becomes a fun play.
"I was born in Switzerland to Slovenian parents, who had moved there with the desire to allow, me and my sister, a better life. And indeed, my childhood spent in Switzerland left a strong mark on me. It has given me width and depth regarding the diversity of cultures and values. It gave me the German language, which is close to me, and feels like home; the language that I feel as equally strongly as Slovene. I'm happy because I can do what makes me the happiest. I live in Slovenia, the country I like getting to know and look forward to, when I return from my trips. I am surrounded by loving family, friends and ultimately also with horses and nature, where I go after the workday and on weekends."
Maja Perne
Kozjanski raj
Maja Perne, a bachelor student of English and German. She wants to obtain a Pedagogical Master's degree, as she is passionate about teaching. Visiting a summer language school in Kiel, Germany, has helped her polish her knowledge of German, as her time spent working in Scotland has done for her English. She enjoys working with children, is passionate about foreign languages and nature, and is always ready for an adventure.
"For my entire life, I have been living and working on a small farm, hence I am no stranger to life in nature and work with animals. I adore hiking, cycling and group activities. Nonetheless, my heart leaps, when I hear the word travel. I believe one's true ingenuity floats to fore when travelling, not to mention, how getting to know foreign people and their culture widens one's horizons which is simply priceless."
Maša Oplotnik
Kozjanski raj
Maša Oplotnik is finishing her studies in Ljubljana to become a Primary School Teacher.  She has a lot of experience in working with children in different camps and also in kindergardens. She also did the teaching in schools abroad. But being a part of a language summer camp team offers her the opportunity to join her passion for languages with the work with children in nature. She considers her work with kids a hobby.  She "recharges her batteries" by swimming, travelling and hiking with her family and friends.  Another thing that she is very passionate about is music which she also tries to include in her children teaching.
"Every chance I have, I take time to go hiking to get rid of the everyday stress. It gives me peace and the energy to cope with everyday life. Hiking up the hill reminds me of a metaphor for life and teaches me to never give up. And this is the lesson I would like to teach my future generation: no matter  what challenges lie ahead or how hopeless a situation seems to be, it is worth carrying on and finishing what one has started."
Catherine Earles
Kozjanski raj
Catherine Earles, English native speaker from England, is a trained sport scientist but has spent most of her life working with children – first as a tennis coach in England and America and then, after having children of her own, as a schoolteacher of students aged 11-16. Catherine loves to travel and having explored the world she discovered Slovenia was the perfect place for her. She relocated here in 2015 and now works in a primary school in Rogaška Slatina. She loves to spend her free time with her family in the great outdoors, walking and cycling in the summer and skiing in the winter.
"Life is meant for living. We must take every moment and make it special. I cannot think of a nicer way for children to spend their summer than taking part in these camps – exploring nature, making friends and learning skills for life. These memories will last forever."
Anuška Poglajen
Kozjanski raj
Anuška Poglajen, Professor of Spanish language and student of geography. I've been gathering experience in teaching in many classes and hanging out with the young in various volunteer camps, language camps in Slovenia and abroad.
"I live by the principle "Carpe diem", because every day is beautiful and full of surprises and therefore unique. Home is the best, but a traveller's heart is pulling me to friends around the world. In my student days I was impressed with Portugal and rather the complicated Portuguese language. Love of language and friends' invitations led me first to the far west of Europe and later on across the Atlantic to Brazil, where I got completely addicted to Brazilian Portuguese, and now I enjoy sharing this love of language and the Brazilian energy in courses of Portuguese language. On trips I "charge my batteries" and all the new discoveries are delicious food for my soul. There I always learn something new, meet interesting people and then return back again, where I feel the best – at home.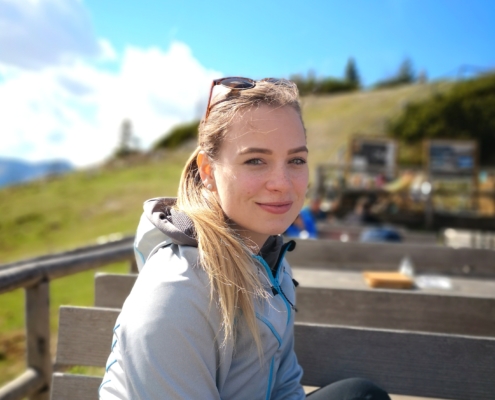 Manca Žuna
Kozjanski raj
Manca Žuna is a primary school teacher, specialized for English teaching for young learners. She loves sports, working with children and is always up for a challenge. She runs sport classes in kindergartens, teaches swimming and works as an entertainer. By volunteering in the sport-camps and sailing camps, she has gained experience of working with disabled children. She has lived in the Netherlands for some time where she was teaching English.
"Children are very curious and love to explore. Camps like this one present a unique opportunity for them to gain knowledge, broaden horizons, meet new people, learn to coexist with others and create thousands of memories."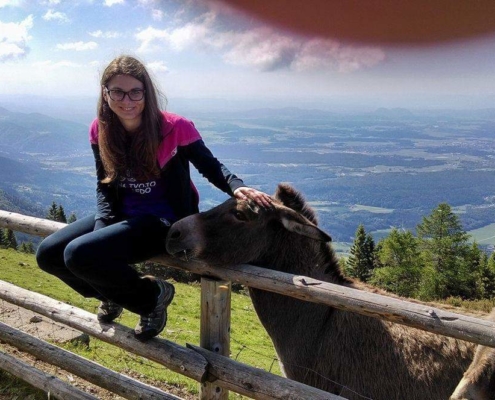 Špela Skok
Kozjanski raj
Špela Skok is studying to become an organiser of the social networking. Ever since her high school she's been investing her free time working with children. She spends her afternoons as a sports trainer for preschool children, as a tutor of English language and quite often children can see her at birthday parties or summer camps where she works as a counsellor. Besides working with children she also enjoys exploring beautiful corners of Slovenia. Her favourite activities are hiking and capturing photos for her lifetime memories.
"There are many things that are important in life and at the same time there are only a few of them that really matters. Great views, sunsets, laugh of children and sparkling eyes are always good recipe for a great life. Every now and then we can lose our focus. But as soon as we regain it, we can create important lifetime memories and things that really count in someone's life. "
Sara Žibrat
Kozjanski raj
Sara Žibrat, a teacher of English and Slovene, actively engages in activities connected to music, film and dance. In her free time she voluntarily tutors children, proofreads student journals and organizes summer film-making workshops at the fantastic film festival in Ljutomer. She has bettered her knowledge of English travelling on a working holiday visa in New Zealand, where she also became interested in hiking and from where she returned with many exciting travel stories to tell.
»The best memories of my childhood are the memories I forged at international camps and thus I would like to share my positive experience with young generations. I want them to see how fun making new multicultural friends in nature can be and how language can open the door to a whole new world of opportunities and unexpected knowledge.«
Nana Čepar
Kozjanski raj
Nana Čepar has a Bachelor's Degree in Russian and Slovene language. Most of all, she likes to use her language skills to connect people and cultures. During her studies at the Faculty of Arts in Ljubljana she was additionally improving her English skills by studying in the USA and travelling all over the world. For nearly twenty years, she has been sharing her joy for languages with children of all ages. She also likes to bring the Slovene culture, language and literature closer to foreigners, especially Russian speakers. In her free time, she loves to spend time with her family, hiking and exploring the hidden Slovene corners on a horseback. Meeting new people, their language and customs is what makes her happy. She is also a musician and has great passion for literature.
»Nature and animals are my passion, therefore I moved with my family from a city to the intact nature in the middle of Styrian hills and woods. What I love to do the most, is having a book in my hands, sitting in my garden and looking at my daughter and son, merrily running around and discovering the mysterious life of nature first-hand. In the warm evenings, we sit by the campfire, sing, play and tell stories.«
Matjaž Zgonc
Kozjanski raj
Matjaž Zgonc is taking a gap year before finishing his BA studies in English and sociology. Gaining experience teaching courses and summer camps, he strives to educate children on behaving responsibly to one another, and encourages them to dare to speak the languages they are learning. He dabbles in student organising and researches different dimensions of the English language.
»Everyone who learns a language eventually finds themselves before a wall. This wall, having been raised in their minds, is built of bricks made from language norms, and the norms seem to be more and more and less manageable the more they continue to learn. It is important to show how a spoken language is no less a language than the one taught in school, thereby encouraging everyone to take the wall down.«